Why is cybersecurity important in the digital era of 2022?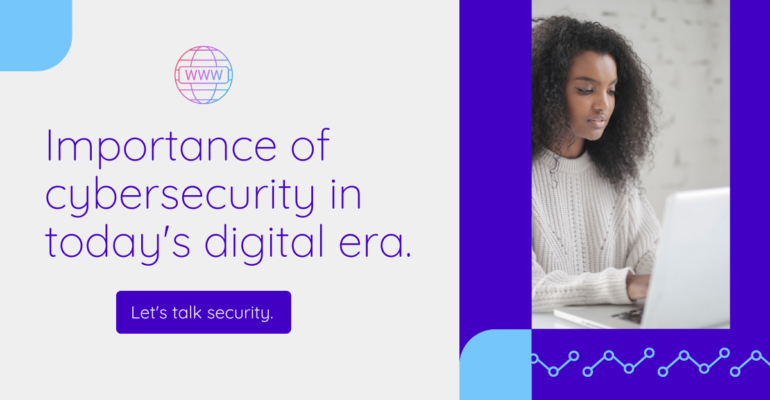 Why is cybersecurity important in the digital era of 2022?
Suppose your company has introduced a new data-driven process in the system that's essential for the company's reputation, forecasting trends, recognizing opportunities, and beating the competitors. One day, your CISO notices a significant information leak, costing you huge financial losses. Research states global cybercrime costs will grow by 15% or more from USD 3 trillion in 2015 to USD 10.5 trillion annually by 2025. Thus, increasing the urgency to prevent your company from cyberattacks. The leader of Infosec Future says, "It is becoming essential for businesses to understand the impact of the digital threats and problems. Moreover, it's crucial to anticipate attacks and adapt to the evolving cybersecurity ecosystem." The intensity of cyber-attackers is increasing when the technologies are developing and our world is digitizing.
How is the cybersecurity market evolving?
We and our businesses are dependent on information technology for better functionality. Thus, putting us at the forefront of the attacker's mind for various cyber crimes in individual, property, and government capacities. In addition, cybercriminals are professionalizing operations and developing unique ways to exploit vulnerable spots. Vulnerabilities are primarily found in new emerging technologies built to cut costs, improve performance, and aid the latest business models.
Next, after covid, many companies choose a hybrid workplace by utilizing the cloud and adopting a cloud-first policy for all projects. However, the IT environments are data-driven with various services, making them vulnerable to attacks. Moreover, the hackers conduct social engineering, attack the company insiders, and promote exploitation. Thus, it's becoming increasingly challenging and vital for a business to survive for the smooth functioning of business operations. Moreover, we must protect the firm against intellectual property loss, assuring regulatory compliance and safeguarding against the cost and loss of reputational deterioration associated with data violations.
Importance of cybersecurity
Jeh Jhonson said, "Cybersecurity is a shared responsibility, and it boils down to this: in cybersecurity, the more systems we secure, the more secure we all are." Implementing cybersecurity policies secures our sensitive data, personally identifiable information (PII), protected health information (PHI), personal information, and more. Without a robust security program, your company cannot defend itself against data breach campaigns. Besides shifting to poorly configured cloud systems, the sophisticated cyber criminals quickly bet on the risk and implement a successful cyber attack. However, focusing just on the IT department won't solve your problem. Neither can antiviruses can solely be the protector. Everyone can be a victim, from big to small businesses, and suffer long-lasting damage. Additionally, cyber threats can enter any level of your organization. Therefore, your company should be conducting awareness and training for your employees about common cyber attacks.
Our society is reliant on technology, and dependency isn't slowing down. You might rely on your computer for day-to-day operations. As we reserve sensitive information like social security numbers, credit card information, and bank account details in cloud storage services like Dropbox or Google Drive, we're always at a risk of opening doors to vulnerabilities that didn't exist a few decades ago. Governments globally are putting efforts into enhancing the awareness of cybercrimes. One of the examples is GDPR in the EU, wherein the organizations are asked to communicate data breaches, designate a data protection officer, mandate user consent to process information, and anonymize data for privacy.
Top ways to protect your organization's data and technology
The situation of companies, individuals, and governments globally is poor, and many of us need to take urgent security actions. In India, we have seen a rise in cybercrimes since 2018. The situation is worsening, from 2,08,456 incidents in 2018 to 2,12,485 incidents in the first two months of 2022. When we carry out the hypothesis, cybercrime is much more than a physical action. There's a vast underground network of digital criminals comprising individual hackers, sophisticated crime syndicates, foreign governments, and corporate espionage experts. Besides, cybersecurity is a top and consistent concern for business leaders like CIOs and CEOs. Here are some ways to protect your company against attacks.
Data backup: The most beneficial outcome in a cyber attack or a technical issue has to be containing the backup of your company's data. It doesn't cost much and gives additional security. If you back up on a hard drive attached to your computer, do not leave the devices connected to prevent breaches.
Securing network and devices: You must ensure that your operating systems and security software are regularly updated for security and advancement purposes. In addition, your security software should contain anti-virus, anti-spyware and anti-spam filters. Besides, it's beneficial to set up a firewall to secure the company's internal networks.
Align policies: Formulating and implementing cyber security policies helps the users, leaders, and staff to get better awareness and understand their responsibilities and exclusions in sharing data, devices, emails, and sites.
Aim for a cyber-attack-free company
We cannot control cyber criminals who have aimed at your company for their benefit. Understandably, there's anxiety among top management, staff, and customers because of the attacker's uncertainty, surprise, damages, and losses. However, we can spot our vulnerable spots and take essential steps like encrypting data, using multi-factor authentication, regularly monitoring, creating policies, caring for customers' data, and seeking professional advice from experts. Of course, it's challenging to maintain cyber security. However, focusing on three principles, i.e., protect, detect, and respond, can be a win for you.