Red, Blue, and Purple Team Testing Service

Conduct test to ensue combat
Attack, Defend and Facilitate
Our Proposal
Infosec Future simulates actual tests to verify that your organization's defense system is up to date to deal with any threats that may arise.
In the digital world, we come across many hackers that encroach on the privacy of both individuals and businesses. As a result, it is critical to protect enterprises against threats. Infosec Future offers cutting-edge solutions like Red Team, Blue Team, and Purple Team pen testers to protect systems from attacks and guarantee that businesses are appropriately protected. We have a group of offensive security professionals tasked with using real-life adversarial techniques to help organisations identify and address vulnerabilities across infrastructure, systems and applications, as well as weaknesses in processes .
Resources Constraints for pen testing
We have team of highly skilled and experienced in hacking ,who can show the actual simulation and also highlight weak points making sure we safeguard the system to the best.
Dealing with Advanced persistent threats
Detecting anomalies in outbound data is perhaps the best way for Infosec professionals to determine if a network has been the target of an APT attack. Many automated security testing methods are unable to deal with APTS, but at infosec Future, we model all attack routes and ensure that the whole attack kill chain is highlighted.
Obtaining the most up-to-date tools for a pen test.
It might be difficult to obtain all of the necessary tools and software to conduct various sorts of pen testing. Hiring a professional pen testing team, such as ours, is the optimal choice because we have already invested in the necessary resources.
We give a comprehensive Pen tester package, from resources to implementation to scheduling, so you don't have to look for one separately.
Red team testing
Our red team maintains a hacker-like approach. Our red warriors provide shields against all developing threats by employing advanced procedures, locating weaknesses inside the infrastructure's security, launching exploits, and reporting their finding.
Blue team testing
To handle human-centric assaults like phishing, baiting, and others in your business, the blue team analyses risks, monitors vulnerabilities, and creates incident reports. To safeguard your internal affairs, we provide security awareness training programmes and end-user policies.
Purple team testing
Our purple team acts as a feedback loop, ensuring that communication between the red and blue teams is smooth. This is our best service since it assures that all pen-testing teams work together.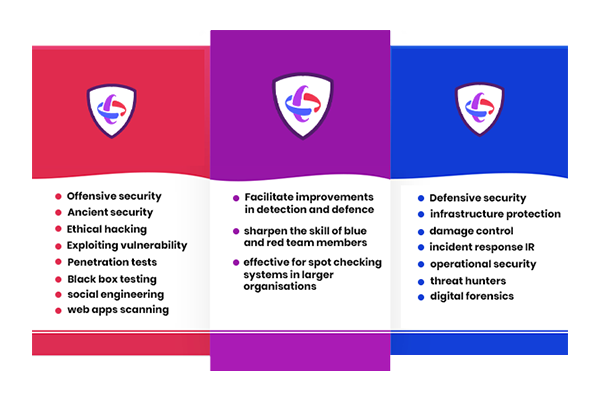 Testimonials
How our services bring about success
Ravi Kaddy
Founder of Advertiso
Infosec Future auditors have been very patient and provided the necessary information on time. They take time to make sure we understand what needs correction and the reasons behind it.
Abhinav Anand
Director at STPL and SGEPL
We are extremely happy with our relationship with Infosec Future. With their help, we were able to identify weak spots within our system and successfully eliminate them.
Gaurav Singh
Director at Legion Infratech
What makes Infosec Future our top choice is its ability to deliver accurate security management services and recommendations that help us prioritize and resolve security problems.
A.K.Singh
Director at Haxperts Pvt Ltd
Infosec Future provides our team with multiple frameworks and solutions that specifically catered to our company's needs. Regular system checks have also helped us avoid malware issues.
J. Mody
Chairman of Delta Corp Limited
The thing that left a lasting positive impression was the fact that Infosec Future took care of all the paperwork, helped us troubleshoot and put together an incident response management plan with efficiency. 
Sachin Singh
Director at Earthson Geotechnical Pvt Ltd
I can confidently attest that Infosec Future is detail-oriented. The installation of reliable log monitoring services has ensured that we have all our bases covered from the very beginning.
Raju Verma
Founder of Cortex Power
Infosec Future has become an asset to our firm. From a security standpoint, they have helped us in creating a GDPR compliance program that is customized to fit our firm's requirements.