Privacy and security compliance checks


Governing SaaS Privacy
And Security Compliance Solutions
Our Proposal
InfoSec Future's data privacy and security compliance services analyze operational technologies, Internet of Things, and Quantum in SaaS companies to eliminate all security risks.
In the SaaS environment, the weightage of data is expanding day by day. Innovative solutions like cloud computing, IoT, OT, and Quantum are pushing IT businesses towards excellence while raising security risks at an alarming rate. Empowering governments and cybersecurity experts' efforts, InfoSec Future is offering SaaS privacy and security compliance services to all. Whether you are faced with a data breach or data privacy compliance, we are here for you. We implement a systematic risk governance approach that adheres to regulatory authorities, laws, and industry-relevant units, establishes controls to meet data management and protection requirements, which defines our industry standards that translate to instrumental reliability reflection for customers to indicate satisfactory service delivery.
Limited knowledge related to data security and privacy compliance in SaaS companies.
SaaS companies might be technology-driven, but most of them consider that backing up data is sufficient for cybersecurity. We here educate SaaS organizations by baking custom data management strategies and providing staff training for them.
The wave of the Internet of Things has dramatically increased data volume and privacy challenges.
Data privacy has become harder to handle with IoT and bring-your-own-device IT policies enforcement. Thus, we help organizations to governance data in the right manner after analyzing their different operating systems and multiple apps.
Keeping the system secure and preventing data privacy costs are frequently increasing.
The more data your organization produces, the more you have to spend on maintaining it. Therefore, we reduce data silos, duplicates, remove manual processing and improve control to lower your data management costs.
A never-ending list of regulations and documentation to follow in SaaS data management.
Data privacy and security in SaaS companies are linked to many regulations and compliances. By developing processes, data modeling, and automating data management, we can make it easier for you to handle different complex rules.
InfoSec Future can help you follow essential privacy and security compliance requirements to simplify your compliance journey from the start to the end.
SOC 2 Compliance
SOC 2 and our team goals are the same — configuring system for maximum security and customer data privacy. For cloud-based SaaS providers, we have a complete SOC 2 compliance team ready to serve them.
GDPR Compliance
Our team has understood the hard-to-comply General Data Protection Regulation (GDPR) privacy standards. We can help you follow all GDPR guidelines and avoid hefty financial penalties in a breeze.
ISO/IEC 27001
Do you want to get an ISO/IEC 27001 certificate? Then, we can design your information security system based on specific rules and regulations mentioned in the Information Security Management System suite.
PCI DSS
The Payment Card Industry Data Security Standard (PCI DSS) is a framework for developing a secure payment card data security process. If you are a FinTech SaaS company, we can introduce you to PCI DSS standards.
23 NYCRR 500
For SaaS companies working within the financial space, the New York State Cybersecurity Requirements for Financial Service Companies act is vital that we can help them follow better.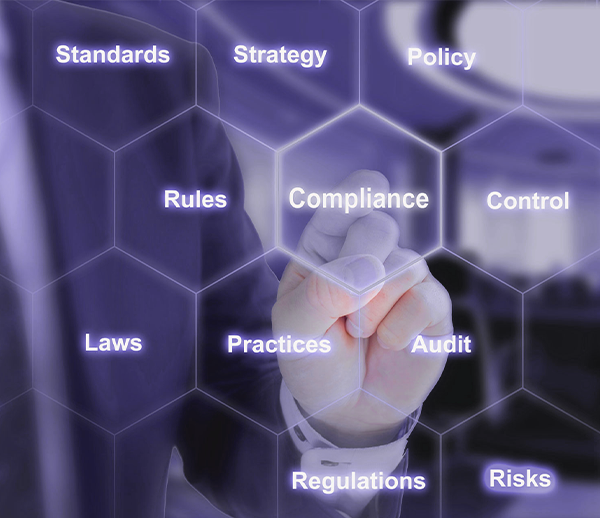 Testimonials
How our services bring about success
Ravi Kaddy
Founder of Advertiso
Infosec Future auditors have been very patient and provided the necessary information on time. They take time to make sure we understand what needs correction and the reasons behind it.
Abhinav Anand
Director at STPL and SGEPL
We are extremely happy with our relationship with Infosec Future. With their help, we were able to identify weak spots within our system and successfully eliminate them.
Gaurav Singh
Director at Legion Infratech
What makes Infosec Future our top choice is its ability to deliver accurate security management services and recommendations that help us prioritize and resolve security problems.
A.K.Singh
Director at Haxperts Pvt Ltd
Infosec Future provides our team with multiple frameworks and solutions that specifically catered to our company's needs. Regular system checks have also helped us avoid malware issues.
J. Mody
Chairman of Delta Corp Limited
The thing that left a lasting positive impression was the fact that Infosec Future took care of all the paperwork, helped us troubleshoot and put together an incident response management plan with efficiency. 
Sachin Singh
Director at Earthson Geotechnical Pvt Ltd
I can confidently attest that Infosec Future is detail-oriented. The installation of reliable log monitoring services has ensured that we have all our bases covered from the very beginning.
Raju Verma
Founder of Cortex Power
Infosec Future has become an asset to our firm. From a security standpoint, they have helped us in creating a GDPR compliance program that is customized to fit our firm's requirements.